The Road to Zero Strategy was launched by the UK government in July 2018. This outlines how the government plans to achieve its ambitious goal – by 2040, all newly registered cars will be ultra-low emission (hybrid and battery electric vehicles). Between January 2018 and January 2019 we have seen an impressive 110% increase in electric vehicle (EV) registrations. Despite this, EVs only make up 0.7% of newly registered cars. The question therefore remains – is consumer demand for EVs and ultra-low emission cars rising fast enough to meet the government target?
To understand the trend in rising demand for EVs, firstly, one has to look at the increased public and private efforts to make EV charging part of consumers' everyday lives. As we discussed in a previous blog, the availability of charging opportunities or 'range anxiety' is a key concern for consumers. Two recent developments in England address this fear:
1. Improvements in charging infrastructure:
Funding to improve coverage: In London multiple funding opportunities are available to boroughs to increase their local charging network, and a number of boroughs have ambitious goals. Westminster aims to increase its network by 25% and Wandsworth wants to build 400 charging plugs in summer 2019.
Faster charging: Pivot Power works together with National Grid to extend the existing charging network across the UK by developing 45 fast charging sites close to towns and major roads.
Cheaper and easier access: The scheme Plugged-In Midlands was developed to enable members to have mostly free access to charging stations across the Midlands with one card. The geographic reach has now been extended, giving members access to charging at over 5,000 locations across the UK.
2. Integrating EVs into everyday lives:
Making charging more accessible through combined public and private sector efforts may help explain the current trends of increasing EV registrations – but is this enough to reach the government's target? Looking at current data to predict future EV registration numbers, we have calculated four different potential growth models, illustrated below. Current growth trends in the UK are following a simple linear growth of 0.5% increase in registration numbers. If this trend continues, it will be unlikely that we meet the UK target. Instead, accelerated growth rates are needed. Based on historical development of other technologies it is unlikely that registration numbers will result in exponential growth. Therefore, it is more likely that EV registration numbers will rise in form of an S curve. For this to happen, however, growth rates have to accelerate soon.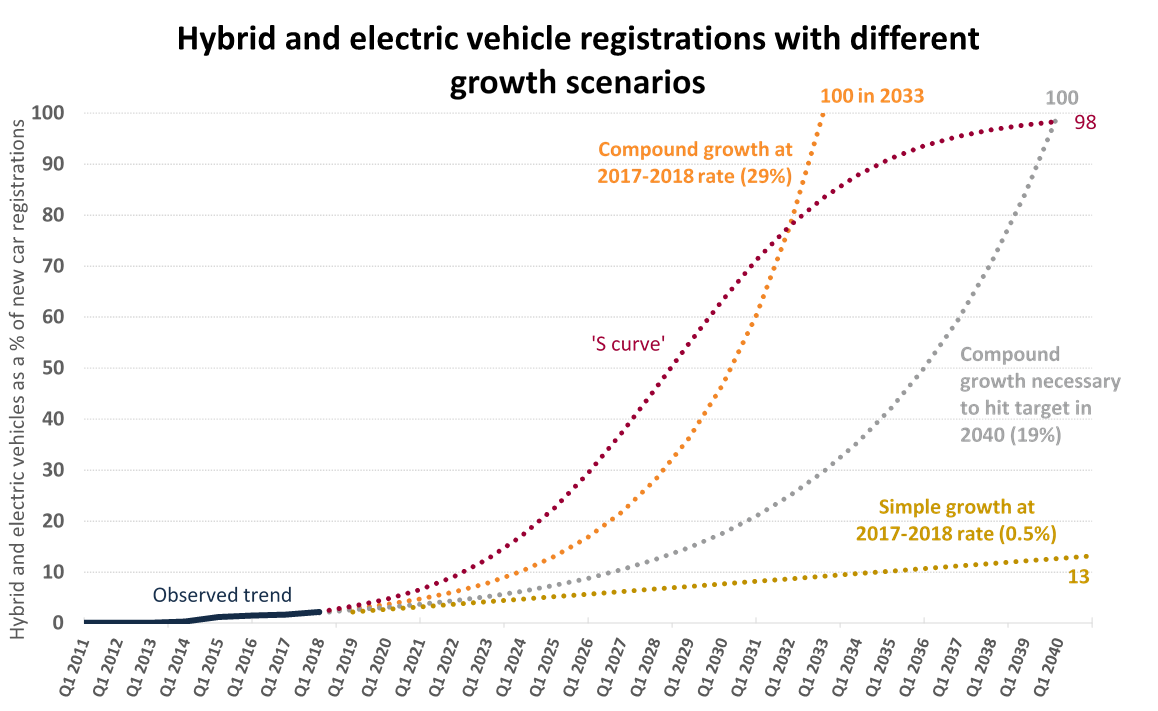 Overall, we observe that more people are purchasing EVs, but the share of EVs on the road remains very small. While improving the scale, performance and integration of charging infrastructure into everyday life is a move in the right direction, it is only a small step towards the government's 2040 goal. To stimulate the market at a more accelerated rate, more infrastructure investment, political incentives and supply-side actions are needed.